ABOUT OUR SURFSCHOOL
This prestigious beach close to the nature is located at the end of the Ilbarritz international golf course on the hill between Biarritz & Bidart. It has wonderful restaurants like "La Plancha" and the famous "Blue Cargo". You will find free parking, but also a playground for your children.
Our surfschool welcomes you in a shed on the sand, as close as possible to the surf lessons. You will find a different of surfing packages for all levels (Beginner, intermediate, groups, individuals, coaching, ...). Our surfschool is ideally located between Biarritz & Bidart, it is ideal for spending a moment with your family or friends to give you the best holidays memories.
THE ILBARRITZ SURFSCHOOL, BIDART SURF ACADEMY IS A FRIENDLY AND FAMILY SCHOOL LOCATED ON THE SPLENDID ILBARRITZ BEACH BETWEEN BIARRITZ & BIDART.
GROUP LESSONS
Group lessons is a 1:30 span, with maximum 8 students. Your instructor will be able to give you his tips and you will also be able to benefit from the group effect in order to motivate you again and again.
1h30 lesson : 40€

/ 3 x 1h30: 115€ / 5 x 1h30: 175€
         All the equipment for the practice is provided.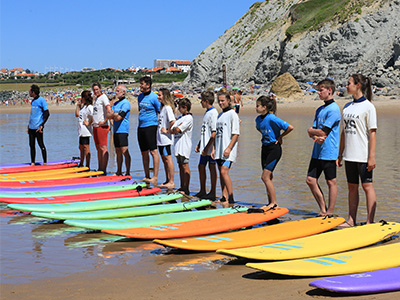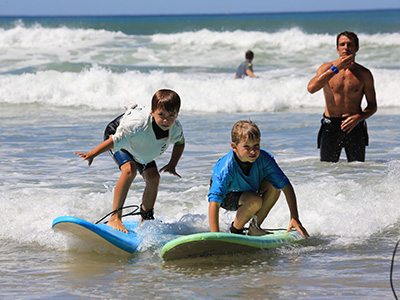 GROM LESSONS
The school offers for kids a formula under 10 years old. This course will take place at the moment when the tide is lower, for an optimum safety with children. This course will last 1H.
1h30 lesson : 30€/ 3 x 1h30: 85€ / 5 x 1h30: 125€
         All the equipment for the practice is provided.
PERSONNAL LESSONS
For the more adventurous, we offer you an exclusive course for an optimal improvement during 1H.
1 Hour lesson starting to : 120€
         All the equipment for the practice is provided.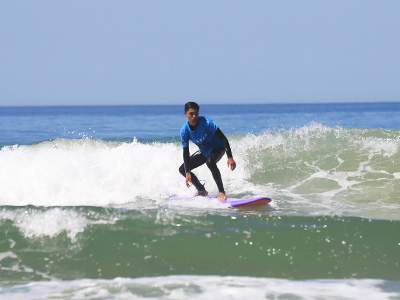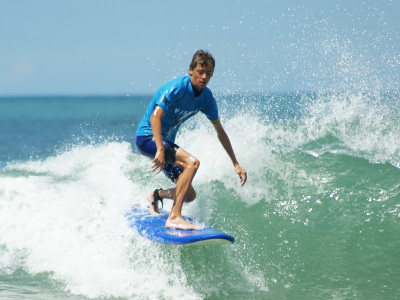 PERFORMANCE LESSONS
A lesson of 1 hour with 5 students maximum, organized at the best moment of the tide according to the level and the skills to be acquired. Video analysis and progress report.
SUNRISE / SUNSET LESSONS
Organized according to demand and weather conditions
"Sunrise": course at sunrise with breakfast: 50 € / pers
"Sunset": course at sunset with aperitif : 50 € / pers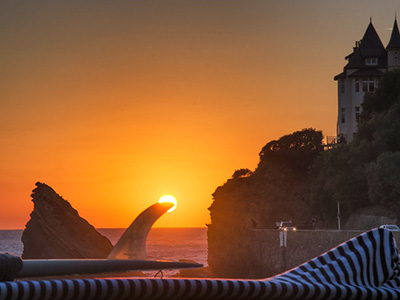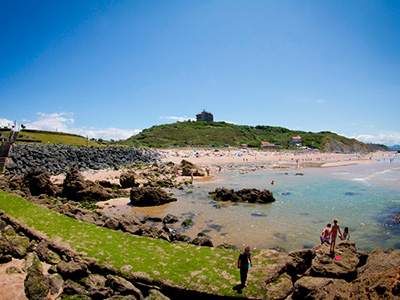 ACCOMODATIONS OFFERS
Our surfschool is partner with several resorts to offer you an accommodation for your stay (Le Ruisseau campsite, Le Domaine de Françon ...). You can benefit discount on the surf packages.
Ask us for a quote.
GROUP LESSONS
Our school welcome you for groups during seminars, bachelor party, birthday for the children with taste ... one lets you find an occasion.
Ask us for a quote.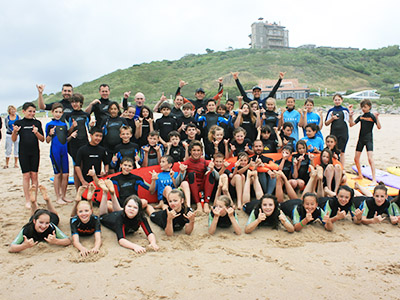 BSA | Bidart Surf Academy
+33 6 60 84 48 16
bidartsurfacademy@gmail.com

Bidart Surf Academy
19 impasse Lahontine
64200 Biarritz

Surfspot: plage d'Ilbarritz
avenue du lac 64210 Bidart

08.00 - 21.00